Two-Hour Cupcake-Decorating Class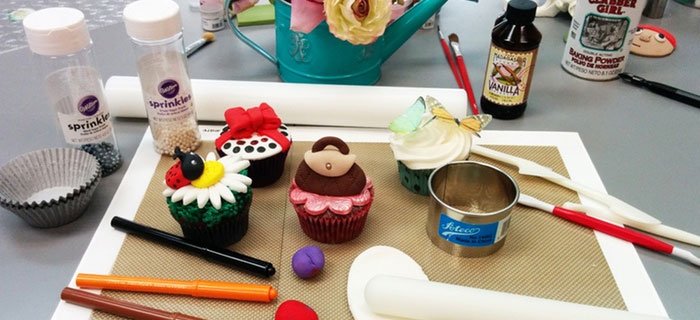 This workshop will introduce you to the world of baking and decorating. You will learn how to bake delicious cupcakes, make buttercream frosting and decorate cupcakes using frosting and fondant.
What will you learn in this workshop?
• Tips on how to bake delicious cupcakes
• How to work with fondant and create decorations with it
• How to use different tools for decoration (small tools, cutters & plungers, etc)
• How to decorate cupcakes using buttercream and fondant.
What does the workshop include?
The workshop includes all the tools, materials and ingredients required to create and decorate 4 cupcakes.
How long does it take?
The workshop lasts approximately 2 hours.
Who can enroll to this class?
This class is suitable for beginners with very little to no experience.
The minimum age requirement for 101 classes in 8 years old.
Children aged 8 to 12 should be accompanied by a participating adult.
Sign up for the upcoming class
My daughter and I really enjoyed the one-on-one time learning cupcake techniques. The cupcakes were delicious too!
This place was awesome. I needed to learn to make a few figures out of fondant and they were able to assist and help me sculpt what I needed. I will definitely be going back to buy my cake supplies from there. Thank you
Loved the class! Have now begun to practice all the skills I learned for a friend's baby shower in the Fall!!! Everyone was very nice and so talented!
Bought this for a Valentine's day gift for my partner. We had so much fun decorating the cupcakes and learning how to make the best cupcakes from scratch. We will definitely attend another class sometime.
It was an amazing experience for my 8 year old niece and I. The staff was very informative and their assistance was greatly appreciated. Overall, I give Mia's Cake House, a two thumbs up!
Great owners, very knowledgeable & nice. Makes for a nice girls night out or to get tips for aspiring bakers.