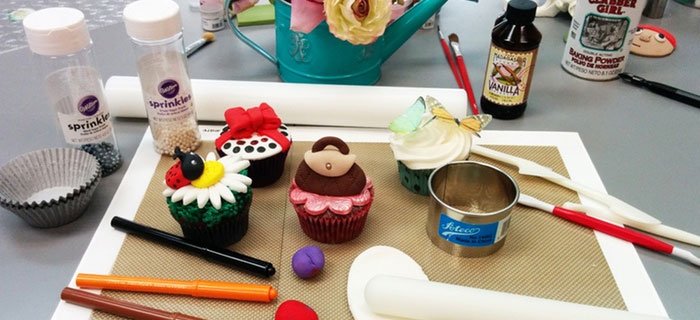 5-7pm: CUPCAKES 101
What will you learn in this workshop?
• Tips on how to bake delicious cupcakes
• How to prepare buttercream, how to color it, handle a piping bag and use of the different tips for decoration
• How to work with fondant, color it and create decorations with it
• How to use different tools for decoration (small tools, cutters & plungers, etc)
• How to decorate cupcakes using buttercream and fondant.

What does the workshop include?
The workshop includes all the tools, materials and ingredients required to create and decorate 4 cupcakes.

How long does it take?
The workshop lasts approximately 2 hours.

Who can enroll to this class?
This class is suitable for beginners with very little to no experience.
The minimum age requirement for 101 classes is 8 years old.
Children between 8 and 12 must be accompanied by a participating adult (2 reservations required)

Acquired skills:
Cupcake baking, different cupcake decorating techniques. Use of piping bags and tips.

Price: $70 $40

If you have a voucher please fill out the voucher information in the form (if more than one voucher, separate with commas.) Voucher number is 8 digit code that appears beneath the voucher bar code.

SCHEDULE:
3/4/2019 5-7pm

REGISTER ONLINE AND RESERVE YOUR SEAT TODAY!
Please refer to our FAQ for any questions about attendance, rules and cancellation policy.
Event Location
Mia Cake House Atelier, 1739 N. University Dr.
Plantation, Florida, 33322